Dispersion Capital boilperplate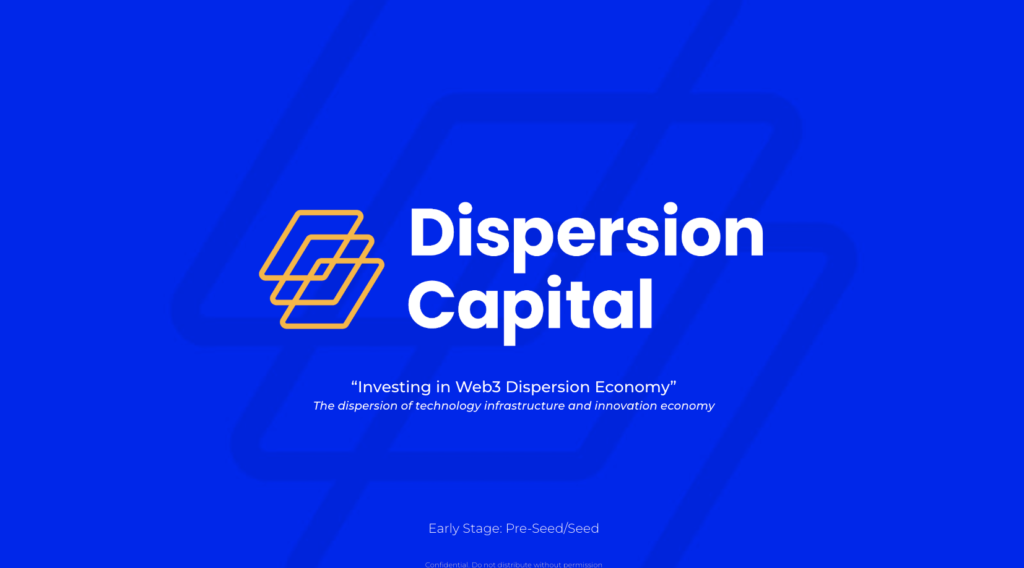 About Dispersion Capital
Dispersion Capital is an early-stage venture firm for decentralized infrastructure.
Our mission is to pioneer a multi-chain, multi-currency, and multi-platform world. We invest in foundational technologies for decentralized businesses, focusing on the tools for developers to deploy this reality. We focus exclusively on specific layers of web3, including fintech and gaming infrastructure, security, data, and platforms challenging legacy industries. The most prominent players in web2 and web3 are behind us, including Faction, Lightspeed, Circle, Ripple, Wemade, Alchemy, Forte Platform, NGC Ventures, Hashkey, Cherubic, and more. Learn more at dispersion.xyz.

About the Dispersion Economy
Dispersion Capital is driving toward the "Dispersion Economy," an evolution of the decentralized economy. For decentralized tech to become as useful and widespread as the internet, it needs to be possible for developers to build functional, accessible, and scalable applications.
What does this look like? It looks like a constellation of applications, services, platforms, companies, and DAOs that are decentralized in their operations AND dispersed evenly throughout the ecosystem. No more blockchain lock-in. Available and usable everywhere, to everyone. This is the dispersion of blockchain's game-changing decentralization. The Dispersion Economy is powered by a world where the tech is scalable, the access is decentralized, and its impact is dispersed worldwide.
Dispersion Capital is finding and funding the fundamental tech layers to make this future possible. Strictly builder and developer-focused, its investments will ensure they have the tools to deploy on dispersed, decentralized infrastructures.

Patrick Chang bio
Patrick Chang is the founder and CEO of Dispersion Capital. With his deep background in enterprise and web3 infrastructure, Patrick's mission is to fund disruptive technology to help developers build the underlying foundation for the decentralized web.
Patrick is a prominent early investor in web3's most pioneering innovators and protocols. He has invested in nine companies at the inception stage that later became unicorns and three more with large acquisitions. These include Alchemy, Dapper Labs, Flow, Forte, Syndicate, Theta, Blockstack(STX), Branch Metrics, and Volterra. Patrick also led investments in cutting-edge infrastructure technology at prestigious firms, including Cota Capital, Investor Growth Capital, Bain Capital Ventures, and Foundation Capital. With nearly two decades of experience in web2 and web3, Patrick began his career in tech investment banking and M&A, working for Bank of America Merrill Lynch and Lehman Brothers.

Dispersion Capital logos
Download here.
Patrick Chang photos
Download here.